Spellcliff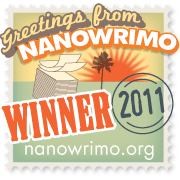 I know I haven't said much about NaNo here this year, but it was sort of a busy time, being ML for the St. Louis region and all. For year eight, I wrote another fantasy (of course). Here's the one-sentence summary:
When a librarian finds a murdered historian in the undocumented vaults of the library, she discovers that magic, unusable for centuries, is returning to the world, and those who once wielded it are returning to take back their homeland.
It kind of ended up being like that, so I guess I stuck to the synopsis better than I have in previous years. Yes, I did manage to actually have a dead body show up in the first chapter right when it was supposed to, as opposed to last year, when I didn't kill the person I was planning on until the very last section. Planning, it is your friend when writing.
There's still more to go. I'll see how many words I can put down tomorrow night, but I've got that purple bar of win, and it makes me smile.
Here's to those of you who took this jaunt into literary abandon with me, and those who are still chugging along. Keep writing, my friends!